As you may be aware, some of the PGA Tour's biggest names are expected at Shaughnessy Golf and Country Club for next week's Canadian Open. The list includes tried-and-true stars Ernie Els, Freddy Couples, Retief Goosen, Geoff Ogilvy and Vijay Singh, to name just a few. What you may not know is which players are worth watching, what to say if you strike up a conversation with your favourite Tour pro, and how to make sure your pretty face makes it on television screens all across the country. So here's a list of things you don't necessarily need to know – but might just want to – in advance of the Open:
Luke Donald: #1 Ranked Golfer In the world; #6,324 Ranked Applicant on Stanford's Academic Acceptance list.
I think we're all familiar with at least one college athlete who wasn't the sharpest knife in the drawer but still managed to sneak his or her way into an American university based on athletic prowess alone. But this was not the case for Luke Donald, who was offered a full-ride scholarship by the Stanford golf coach only to see his academic acceptance fall short. It all worked out pretty well, though, as Donald went on to win an Individual NCAA Men's Division I Golf Championship at Northwestern University and later claim the world's #1-ranking in 2011.
Even John McEnroe, who, incidentally, was accepted into Stanford, can't believe the slight.
Mister Masters
Some guy named Charl Schwartzel won The Masters this year. So you should probably know what he looks like, or, at the very least, have a general idea, just in case you run into him. This is a photo line-up. Can you pick him out? Good luck. May the Schwartz be with you.
(a)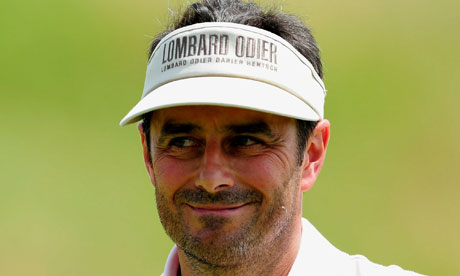 (b)
(c)
(d)
Side note: Best one-line to deliver if you happen to run into Charl in the Shaughnessy lockerroom: "I see your Schwartz is as big as mine." Note: All jokes courtesy of Mel Brooks. (PS: the answer was C)
Belt Buckles and Bottles
Best player to invite out for post-round shots: Anthony Kim
On a trip to Vegas last year, the DJ at the Palms Resort and Casino tweeted the following message at 3am on a Tuesday morning:
            "Anthony Kim is an animal… 115 bottles then to top it off a 25k bottle of Dom, which he showered the dance floor with…"
**Not sure if they serve Dom Perignon at the Roxy but maybe a 2011 sparkling white vintage will do the trick.
I'd Rather Be Driving My Titleist Tractor
Best way to fall asleep at a press conference: Ask last year's British Open champion Louis Oosthuizen about lawnmowers. Apparently he kinda likes them. I mean, REALLY likes them. So much so that he actually flew from South Africa to Silvis, Illinois to play in last week's John Deere Classic (the week before he had to fly to England and defend his British Open title) because he couldn't pass up the opportunity to take a tour of the nearby John Deere factory.
As quoted to the Eastern Iowa Gazette:
"Since I was a little boy, my dad loved John Deere, and I always imagined myself driving one. You know, that dream came true last year. After the Open, I decided to buy one."
In fact, at his post-tourney press conference at the British Open, when Oosthuizen was asked what he would do with his newfound wealth, he replied:
"Buy myself a nice John Deere 6000 Series tractor," which surely bewildered much of the assembled international golf press.
Matty Nice
Best guy to watch if you're looking for that last bit of motivation to finally quit your day job and pursue a career on the PGA Tour: Matt Kuchar; Career PGA Tour Earnings:  $16,023,816
Gary Bettman has less inside pull with the Phoenix Coyotes.
The Golf Mullet: Fairway on Top, Rough in the Back
Best chance to get on Television: if you want you're 15-minutes of fame, just grab a few friends and get everyone to dress up like one of these two beauties:
(1)  Lucas Glover
What you'll need: Fake Beard ($10); Nike Golf Cap ($20); Complete lack of personality (Free of charge!)
Chances of making it on TV: 30%
(2) Charlie Hoffman
What you'll need: Blonde mullet wig ($15); 1980's Titleist hat ($2); Gas Station sunglasses ($7): Don't Hassle the Hoff(s hair) T-Shirt ($20)
Chances of making it on TV: 99%
140 Characters < Ben Crane
Best player to follow on Twitter: Ben Crane, known as much now for his 'Golf Boys' boy-band creation as his painstakingly slow play on the golf course, Crane is a twitter addict who provides daily updates and is never shy to poke fun at himself. His hobbies include: wearing a helmet and spandex one-piece, planking, and generally demolishing public stereotypes. Find him on twitter at: @bencranegolf
Speaking of the Golf Boys, Hunter Mahan wins this year's award for the Tour's most surprisingly skinny-fat guy. Proof is in the pudding, Hunter. Maybe you shouldn't be:
WATCH HUNTER MAKE BAD DECISIONS HERE!

… and he still somehow managed to marry this woman, Kandi Harris:
Just make sure you don't mix up Kandi Harris with Bambi Levin, who happens to be the caddy for David Duval next week (if you are, for some reason, interested in seeing Ron 'Bambi' Levin this week, you might want to check out the first two days of play, just sayin').
Bambi has caddied for the likes of Anthony Kim, Hunter Mahan, and, most famously, Todd Hamilton when he won the 2004 British Open.
According to Hamilton, the nickname 'Bambi' had its own way of stirring up controversy amongst the Tour players.
"Other players' girlfriends would be suspicious when his name, under 'Bambi', showed up on their caller ID," Hamilton joked. "So they would have to explain a few things."
I can just picture Tiger trying to explain that one to his ex-wife:
Tiger: "Elin, baby, it's just one of the guys' caddie calling."
Elin: "Uh-huh, that's what you said about Fluff Cowan."
Out of the Shadows
On a serious note, Canadian Matt McQuillan is coming off a third-place finish at the John Deere Classic where he closed with a final-round 64 last week, making him the favourite Canadian heading into the Open. From what I could glean from his brief PGA Tour bio, his first car was a Dodge Shadow. Maybe ask him about it this week.
I'm 95% sure this is a picture of Matt McQuillan.
But I'm 100% sure this is a Dodge Shadow: "Good Enough for Matty McQ… Good enough for you!"
Player Least likely to Enjoy Canadian Hospitality
Michael Bradley, winner of the Puerto Rico Open, threw his driver in disgust at this year's Player's Championship, only to have it accidentally bound into an awkward water hazard. A spectator was creative enough to get it out for him, certain that he would be receiving something nice in return for his efforts. Phil Mickelson, for instance, is known to roll up fifty dollar bills into each finger of a glove before handing them out to spectators he has accidentally hit; Once, when he broke a spectator's watch with an errant shot, he took off his own rolex and just handed it over to the man.
So what did this spectator get from Michael Bradley? A signed glove. Wow, totally worth it. He now owns a signed Michael Bradley golf glove. Better get out the picture frame.
Kinda ruins the saying: No glove, no love.
Webbisodes
I recently inducted a new member into the PGA Tour's All-Name Team: Webb Simpson… presumably named after Chevy Chase's character Ty Webb in the classic golf film Caddyshack. He will be inducted alongside veterans Fuzzy Zoeller and Duffy Waldorf.
Which gives me a reason to play this:
Mitch Cumsteen… he was a Good guy.
And in the words of Ty Webb himself, "Thank you very little."
Tags:
Canadian Open
,
Golf Boys
,
Lucas Glover
,
Matt McQuillan
,
Travis McLean
,
Vancouver Golf