A week ago, Kevin Bieksa surprised Scott Oake and the CBC broadcasting crew by answering a rather innocuous question about the Canucks' third period strategy with lyrics from a rap song – LMFAO's shots, to be exact. It was great, especially because it led to the creation of this animated gif: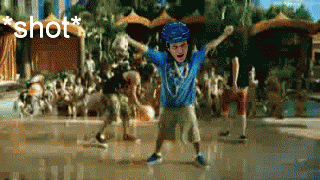 Last night, CBC returned to the bit, mashing up Bieksa's crunk response with the chorus of the song. I especially like the way they synced up the "shots" with Bieksa engaged in spirited acts of pugilism. Good on them to remember that, when given the opportunity, Kevin Bieksa will drag his knuckles across your face. (Be sure to click that link if you like watching Bieksa pulverize dudes.) Yes, Bieksa likes fighting. He once commented that his daughter had headbutted him harder than a Tom Kostopoulos one-punch, which proves he's training his children to fight. Also, Michael Landsberg once asked him why he always looked like he wanted to punch something, and Bieksa responded, "because I do."
Oh, how this man would enrich the Twitterverse.
Anyway. Don Cherry has been banging Bieksa's drum (or, as he calls it, Bieska's durm) for some time now, but you might have noticed that the rest of the CBC has fallen for Bieksa pretty hard this postseason. The Bieksa interview is becoming a staple of a Canucks' telecast on CBC.
Clearly, we weren't the only ones who noticed what a great quote he is.
Expect to see much more of Juice as the Canucks continue their playoff push.
Tags:
Bieksa
,
Canucks
,
cbc
,
HNIC
,
The YouTubes
,
Twitter Needs Juice